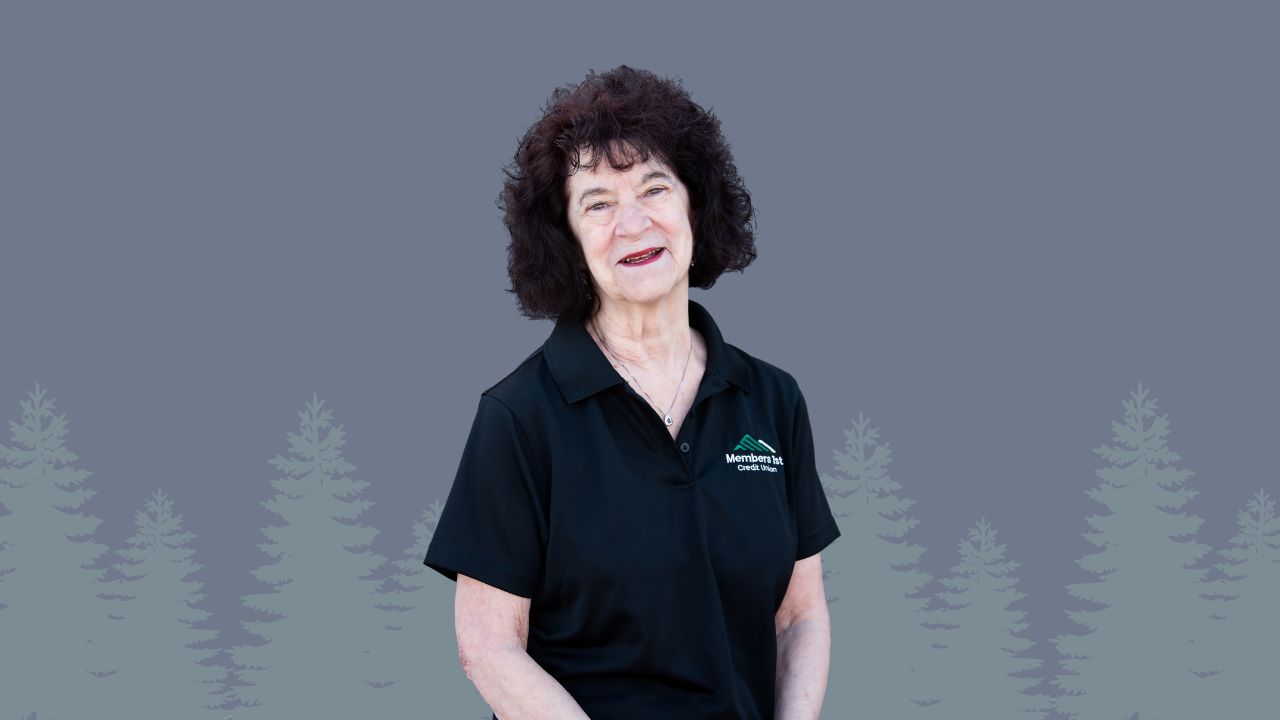 Chairman of the Board, Ricki McClure, Retires
After more than two decades as Chair of the Members 1st Credit Union Board, Ricki McClure stepped down from her leadership role at the end of January to spend more time with family. Over her 29-year tenure on the Board and Supervisory Committee, McClure was instrumental in fulfilling the mission and vision of Members 1st.
"We will definitely miss Ricki's leadership, dedication, and passion for our members," said Caroline Redmann, President and CEO of Members 1st Credit Union. "She has been generously sharing her time with us for nearly three decades now, and her legacy will be a lasting one."
A Siskiyou County native, McClure moved to Redding and began a career with the USDA Forest Service in 1979. She sent a letter of interest to volunteer to Federal Employees of Northern California Credit Union (FENC) in 1994 at the urging of a fellow Forest Service employee. The Board offered McClure a position on the Supervisory Committee, and she accepted. "I became a volunteer for the credit union because I wanted to serve my community," said McClure. "I felt a great deal of gratitude for all that the Redding community had provided me, and I wanted to give back."
Ricki led several "firsts" in her tenure. After serving for three years on the Supervisory Committee and several attempts to join the Board, in 1997 McClure was voted on the Board and became the first female Board member! In 2000, FENC and North State Credit Union merged and became Members 1st Credit Union. In 2003, her determination paid off. McClure became Members 1st's first female Board Chair and held that position until her retirement. In 2016 Members 1st again merged with STAR Community Credit Union in Chico. A testament to her leadership, Ken Reed, a fellow member of the Executive Board shared, "When we merged with STAR Community Credit Union, Ricki was instrumental in ushering in a smooth transition and liaising between both credit union Boards. The merger may not have happened without her leadership."
During her time on the Board, McClure served on board committees including the Executive, CEO Search, Personnel, Nominating, Marketing, and the Building/Grounds committee. As Board Chair, Ricki managed the transition of three different credit union CEOs. "I am incredibly proud of everything we have accomplished over the years," said McClure. "I'm proud of the service that Members 1st provides our community, and I feel great gratitude for all the people involved. I will miss everyone very much."
With Ricki's retirement announcement, Ed Niederberger will pick up the reins and step into the Board Chair role. Niederberger is a Shasta County Sheriff's Department retiree and has served on the credit union Board for 27 years.
"On behalf of the credit union and staff, we want to thank Ricki for all her years of dedicated service to Members 1st Credit Union," said Redmann. "She will be greatly missed by our Board and staff. We share our thanks and best wishes to Ricki in her retirement!"
About Members 1st Credit Union
Members 1st Credit Union is a locally owned cooperative dedicated to providing relevant financial services that our members need to achieve their goals and dreams. Members 1st has five branch locations in Redding, Anderson, and Chico. Membership is available to anyone who lives, works, worships, owns land, or owns a business within Butte, Glenn, Shasta, and Tehama counties. For more information, visit one of our convenient branches, call (530) 222-6060, or visit m1cu.org.
Branch Locations
1380 Hilltop Road
Redding, CA 96003
1260 Pine Street
Redding, CA 96001
5020 Rhonda Road, Ste. H
Anderson, CA 96007
550 Salem Street
Chico, CA 95928
969 East Avenue
Chico, CA 95926
Contact
Josh Markle
jmarkle@m1cu.org
(530) 222-6060 x359