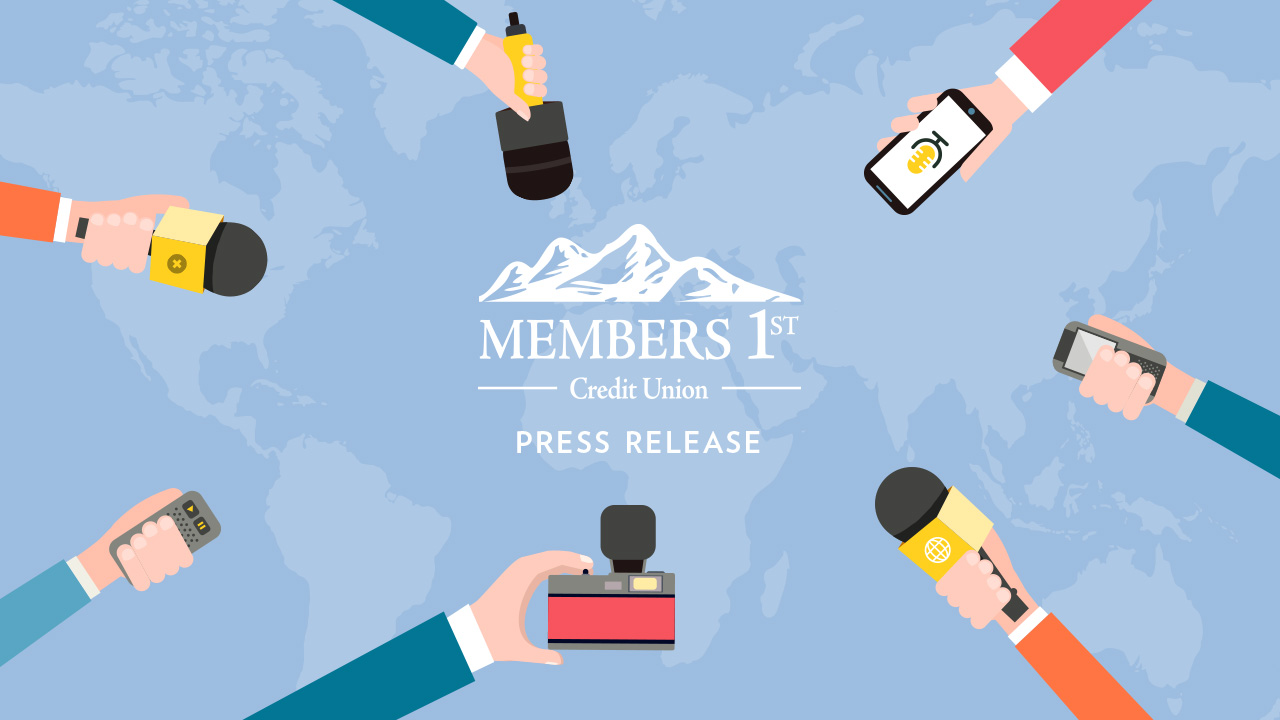 Members 1st Checking a Top-Pick
Members 1st Credit Union's Basic Checking account was selected as one of the half-dozen free checking accounts

Members 1st is one of a small number of financial institutions that still offers a truly free checking account with no fees to dodge or waive. The Basic Checking account from Members 1st comes with free Bill Pay, free Overdraft Protection, free Visa Debit Card, and free access to MoneyDesktopTM, a personal financial management tool. Members can access their account through Online Banking, Mobile Banking, Telephone Banking, branches, and ATMs.

"Consumers are evaluating their finances regularly looking for the best deals to stretch their dollars," says Mark Moore, Members 1st CEO. "Our Basic Checking account is packed with features consumers expect from their financial institution at no cost."

According to a recent certification from the Credit Union National Association (CUNA), consumers can expect to save an average of $150 per year with a Members 1st Basic Checking account. CUNA estimates that Members 1st provided $1,475,979 in direct financial benefits to its 17,608 members during the twelve-months ending September 2011. These benefits are equivalent to $84 per member or $159 per member household. In addition, CUNA estimates that loyal high-use member households received $1,094 in direct financial benefits.

People interested can open a Basic Checking account at any Members 1st branch location.

Members 1st Credit Union offers relevant and affordable financial services to those who live, work, or worship within Shasta and Tehama County. For more information about Members 1st Credit Union visit one of our three convenient branches or call (530) 222-6060 or visit membersonline.org.
Branch Locations:
1380 Hilltop Rd., Redding, CA
1260 Pine St., Redding, CA
5020 Rhonda Rd., Anderson, CA
Contact: Josh Markle
(530) 222-6060
###
About Members 1st Credit Union
Members 1st Credit Union is a locally owned cooperative dedicated to providing relevant financial services that our members need to achieve their goals and dreams. Members 1st has five branch locations in Redding, Anderson, and Chico. Membership is available to anyone who lives, works, worships, owns land, or owns a business within Butte, Glenn, Shasta, and Tehama counties. For more information, visit one of our convenient branches, call (530) 222-6060, or visit m1cu.org.
Branch Locations
1380 Hilltop Road
Redding, CA 96003
1260 Pine Street
Redding, CA 96001
5020 Rhonda Road, Ste. H
Anderson, CA 96007
550 Salem Street
Chico, CA 95928
969 East Avenue
Chico, CA 95926
Contact
Josh Markle
jmarkle@m1cu.org
(530) 222-6060 x359