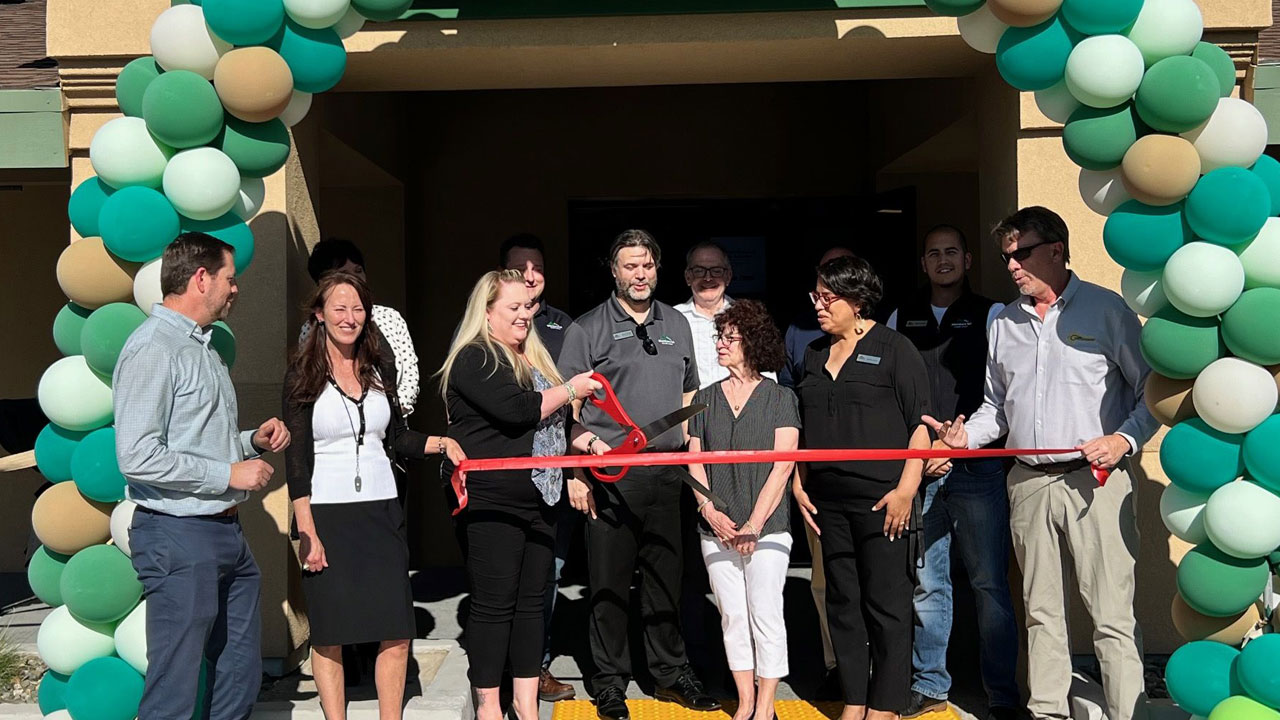 Members 1st Hosts Ribbon-Cutting for New Branch
Members 1st hosted a Ribbon Cutting and Open House on Wednesday, May 4th at their newest branch in Chico, California. The opening of this branch at 969 East Avenue is the credit union's second location in Chico bringing the Members 1st branch total up to five locations in Northern California. The ribbon-cutting ceremony began promptly at 5 p.m. to a mixed crowd of supporters including Chico Chamber members, neighboring business owners, credit union staff and league representatives, and local government delegates from the offices of Doug LaMalfa, Jim Nielsen, and James Gallagher. A brief presentation was made by Josh Markle, the credit union's Vice President of Marketing, thanking the many supporters and staff that helped with the development of the branch. Caroline Redmann, CEO and President of Members 1st, followed with a rousing message of commitment and dedication to the community, businesses, and people of Chico.
Upon completion of the ribbon-cutting, attendees were invited to the Open House to discover the branch's interior features and finishes. Despite its small footprint of 1606 square feet, the branch boasts many amenities including sitting and standing teller transaction stations, private meeting spaces for lending, sufficient dedicated parking, and drive-up and walk-up ATMs. A menu of delicious food was provided by local caterer, Bacio Catering paired with wine from local vintner, Gale Vineyards. The evening concluded with the presentation of raffle prizes from local businesses including The Little Red Hen, Gale Vineyards, Spiteri's Deli, Made in Chico, and The Address. The new branch location has been open since November 2021, serving the eastern residents of Chico, Monday through Thursday from 9 a.m. to 5 p.m., and 9 a.m. to 5:30 p.m. on Friday.
About Members 1st Credit Union
Members 1st Credit Union is a locally owned cooperative dedicated to providing relevant financial services that our members need to achieve their goals and dreams. Members 1st has five branch locations in Redding, Anderson, and Chico. Membership is available to anyone who lives, works, worships, owns land, or owns a business within Butte, Glenn, Shasta, and Tehama counties. For more information, visit one of our convenient branches, call (530) 222-6060, or visit m1cu.org.
Branch Locations
1380 Hilltop Road
Redding, CA 96003
1260 Pine Street
Redding, CA 96001
5020 Rhonda Road
Anderson, CA 96007
550 Salem Street
Chico, CA 95928
969 East Avenue
Chico, CA 95926
Contact
Josh Markle
jmarkle@m1cu.org
(530) 222-6060 x359