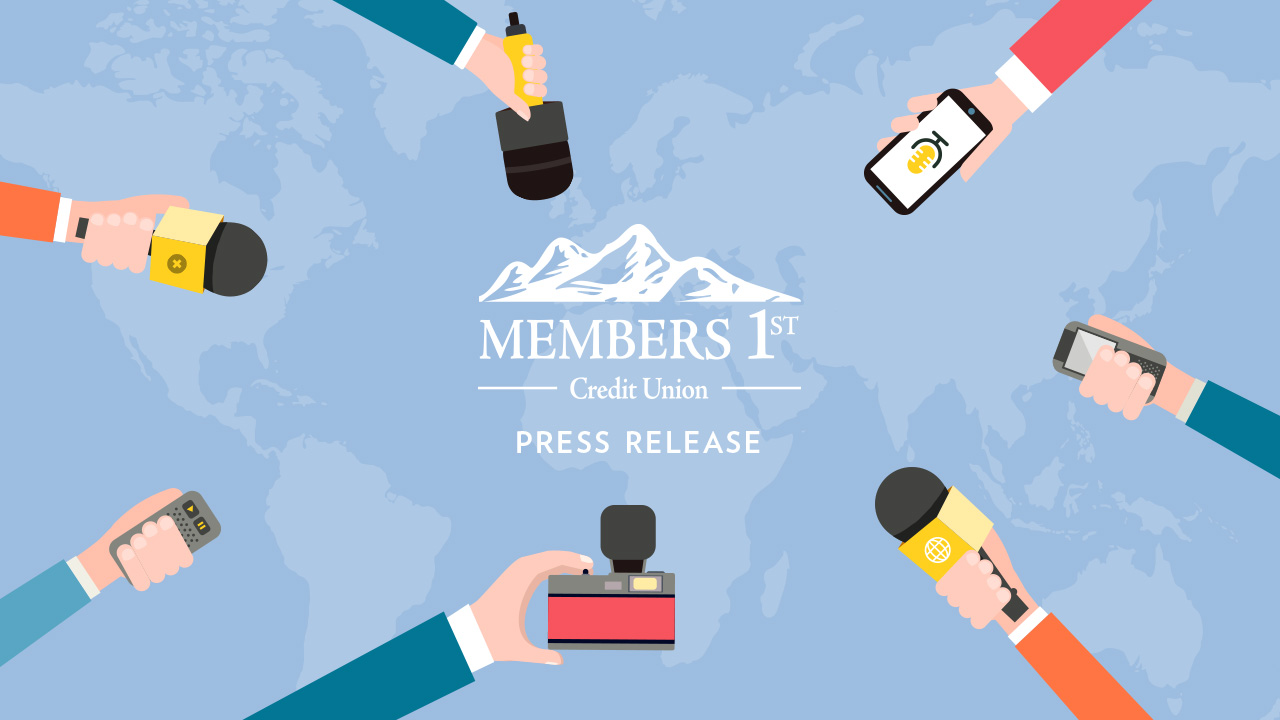 Members 1st Opens Doors for Bank Transfer Day
Members 1st Credit will open the doors of one of its branches for special Saturday hours to coincide with Bank Transfer Day, a grass-roots effort for bank customers to transfer their accounts to local credit unions. The Members 1st branch located at 1380 Hilltop Drive will be open from 9 a.m. - 2 p.m., Saturday November 5, welcoming new members frustrated with the recent debit card and checking account fees announced.
"Our Basic Checking account has no monthly fees, no debit card fees, and no minimum balances to maintain," says Nicki Crandall, Members 1st AVP/ Area Manager. "We've seen an increase of new members the past couple weeks as people are bringing their business to us because of our fee-free account."
Saturday's festivities will include prizes for new members and plenty of free food at the Members 1st 1380 Hilltop branch. Anyone interested can sign up for an account in just a few minutes, and the Members 1st Switch Kit will conveniently aid new members in transferring all automatic deposits and withdrawals attached to their old account to their new Members 1st account.
"Not everyone is aware that we are a full service financial institution open to all residents in Shasta and Tehama Counties," explains Mark Moore, Members 1st Credit Union CEO. "Customers are more protective of their finances than ever and are better informed of their options. We strive to be the best option."
The Members 1st 1380 Hilltop Drive branch is located at the corner of Dana Drive and Hilltop Drive, across from the Mt. Shasta Mall. The credit union's regular operating hours are Monday - Thursday, 9 a.m. - 5 p.m. and Friday from 9 a.m. - 5:30 p.m.
Members 1st Credit Union is celebrating its 75th year offering financial services to those who live, work, or worship within Shasta and Tehama County. For more information about Members 1st Credit Union visit one of our three convenient branches or call (530) 222-6060 or visit www.membersonline.org.
Branch Locations:
1380 Hilltop Rd., Redding, CA
1260 Pine St., Redding, CA
5020 Rhonda Rd., Anderson, CA
Contact: Josh Markle
jmarkle@membersonline.org
(530) 222-6060
About Members 1st Credit Union
Members 1st Credit Union provides the convenient and relevant financial services our members need to achieve their goals and dreams. Membership is available to anyone who lives, works, or worships within Butte, Glenn, Shasta, and Tehama counties. For more information, visit one of our five convenient branches, call (530) 222-6060, or visit m1cu.org.
Branch Locations
1380 Hilltop Road
Redding, CA 96003
1260 Pine Street
Redding, CA 96001
5020 Rhonda Road
Anderson, CA 96007
550 Salem Street
Chico, CA 95928
969 East Avenue
Chico, CA 95926
Contact
Josh Markle
jmarkle@m1cu.org
(530) 222-6060 x359