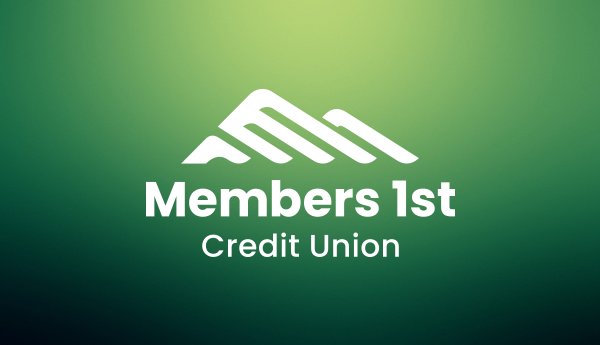 Members 1st Unveils New Logo
Members 1st Credit Union, a $233 million credit union serving over 20,000 members across Butte, Glenn, Shasta, and Tehama Counties, unveiled its new logo today – marking the credit union's first major rebranding effort in 15 years.
The new logo is the result of a collaborative effort of local community designers and internal credit union staff. Three main ideas are represented in the new mark that embody the credit union's strategy, heritage, and members:
Easy – represented by the simplified form of the mark, modern sans serif font, and simple color scheme. Chosen as the credit union's brand promise, ease and convenience lead the credit union's strategy, to make the most convenient financial products for its members.
Connected – demonstrated by the two joining peaks of Mount Shasta, reinforce the cooperative heritage of the credit union. One financial body created for the mutual benefit and welfare of its members.
Well-Being – depicted by the mountain and symbolizing the financial obstacles and achievements of its members, each conquering their own financial mountains toward achieving their goals and dream.
A minimalist take on Mount Shasta features a simplified and linear form, hiding the letter "m" and the number "1". Scalloped edges at the base of the mountain signify the many lakes and watersheds connecting California's northern counties and the credit union's service area. A strong and bold sans serif type anchors the logo. The warm combination of greens reinforces the credit union's territory and geography of Northern California.
"It's much more than a logo, it's about the celebration of nearly 85 years of serving the finest counties in California," says President and CEO, Teri Davis. "The new logo is not a change, but an evolution, inspired by our members. As their needs have evolved, so too must the credit union – with the most simple and intuitive financial products and services possible," says Davis.
The new logo was debuted Monday, June 3, in all internal and external communication from Members 1st. To learn more about the credit union, visit m1cu.org.
About Members 1st Credit Union
Members 1st Credit Union provides the convenient and relevant financial services our members need to achieve their goals and dreams. Membership is available to anyone who lives, works, or worships within Butte, Glenn, Shasta, and Tehama counties. For more information, visit one of our five convenient branches, call (530) 222-6060, or visit m1cu.org.
Branch Locations
1380 Hilltop Road
Redding, CA 96003
1260 Pine Street
Redding, CA 96001
5020 Rhonda Road
Anderson, CA 96007
550 Salem Street
Chico, CA 95928
969 East Avenue
Chico, CA 95926
Contact
Josh Markle
jmarkle@m1cu.org
(530) 222-6060 x359