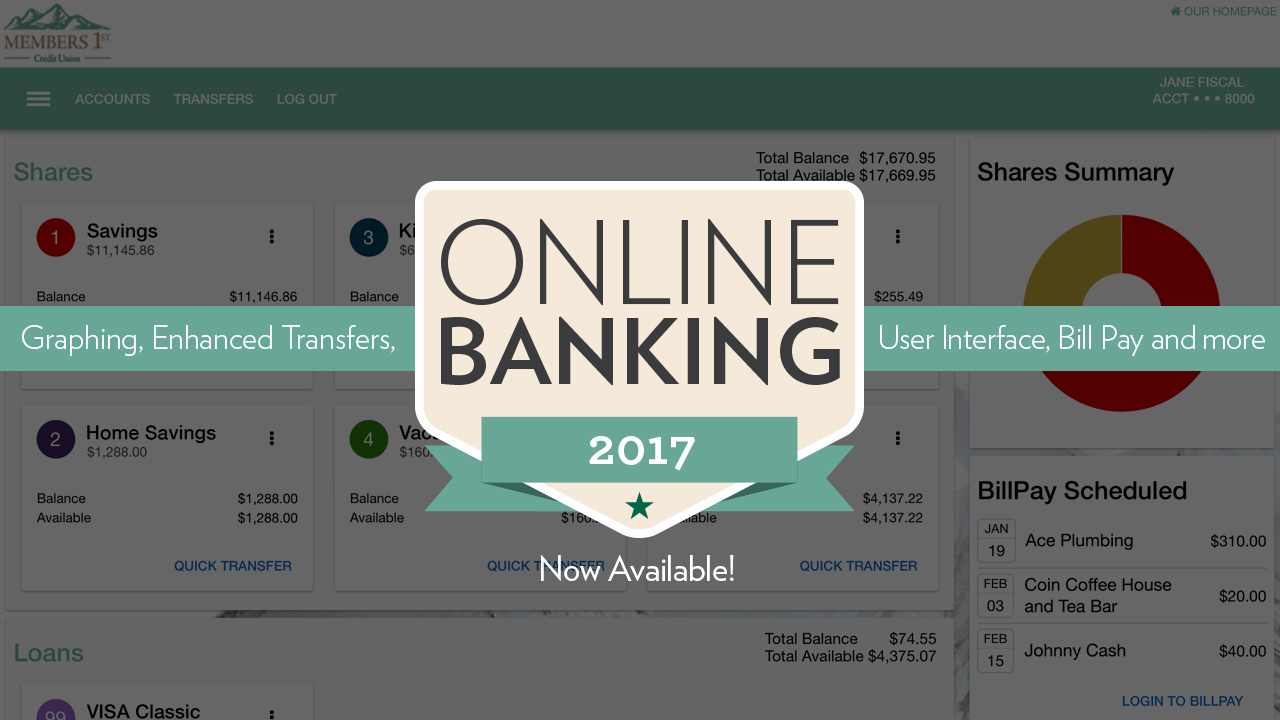 New Online Banking Features Now Available
Members 1st Credit Union is proud to debut our latest Online Banking upgrade with a cleaner and more intuitive user interface, graphical charts, consolidated transfer menu, integrated Bill Pay, and much more. Members can register for Online Banking access at https://www.MembersOnline.org/Online.
Once logged into the new Online Banking you'll notice the newly designed Account Summary page. Each suffix is contained in its own easily identifiable tile displaying the current and available balance.
What is a suffix? A suffix refers to each type of account you have with the credit union such as a savings, checking, credit card, auto loan…etc. Each suffix is referenced by a number located in a circle in the top left corner of each tile. Suffix numbers are utilized at the end of your account number (such as 12345678-17) making it easier to only keep track of one account number with the credit union that contains multiple suffixes.
Suffixes are organized by share or loan type and are then displayed in numeric order.
What is a share? A share refers to any savings or auxiliary savings suffix you have with the credit union. It looks and acts just like a savings account, but the credit union refers to them as shares.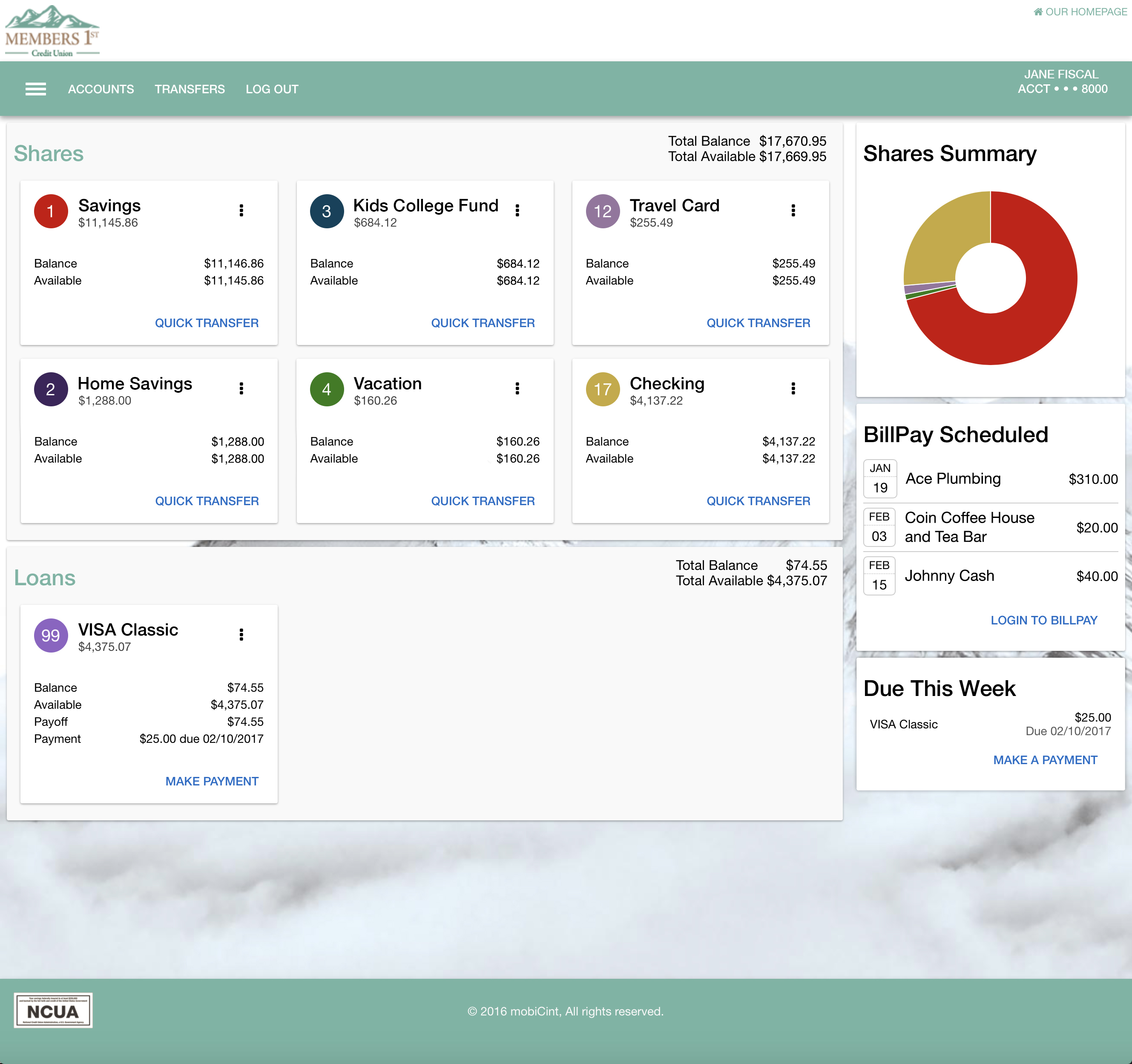 Each suffix tile contains three vertical dots in the top right corner revealing a Quick Transfer menu when pressed. Press the Quick Transfer button process a fast one-time transfer without having to visit the Full Transfer page.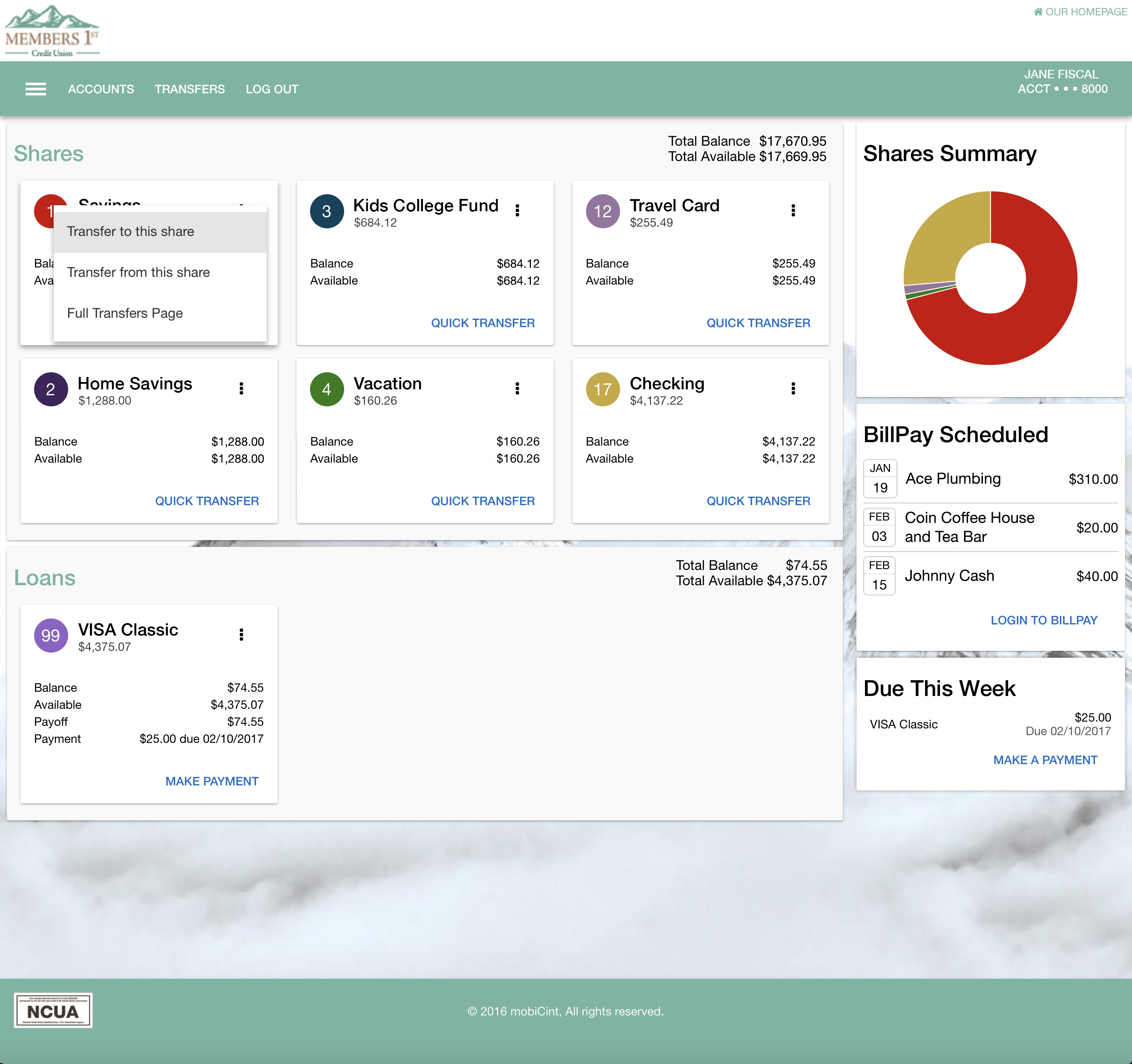 A summary of all shares and loans are located in the top right of each section. The right column displays a donut graph of all your share balances in the Shares Summary tile. Hover over each section of the graph to see the share title and balance. Beneath it is the Bill Pay Scheduled tile showing your upcoming scheduled bill payments and login button to Bill Pay. This tile will only display if you have scheduled payments within Bill Pay. Beneath the Bill Pay Scheduled tile is the Due This Week tile displaying all loan payments due and their minimum payment, due date, and a make payment button.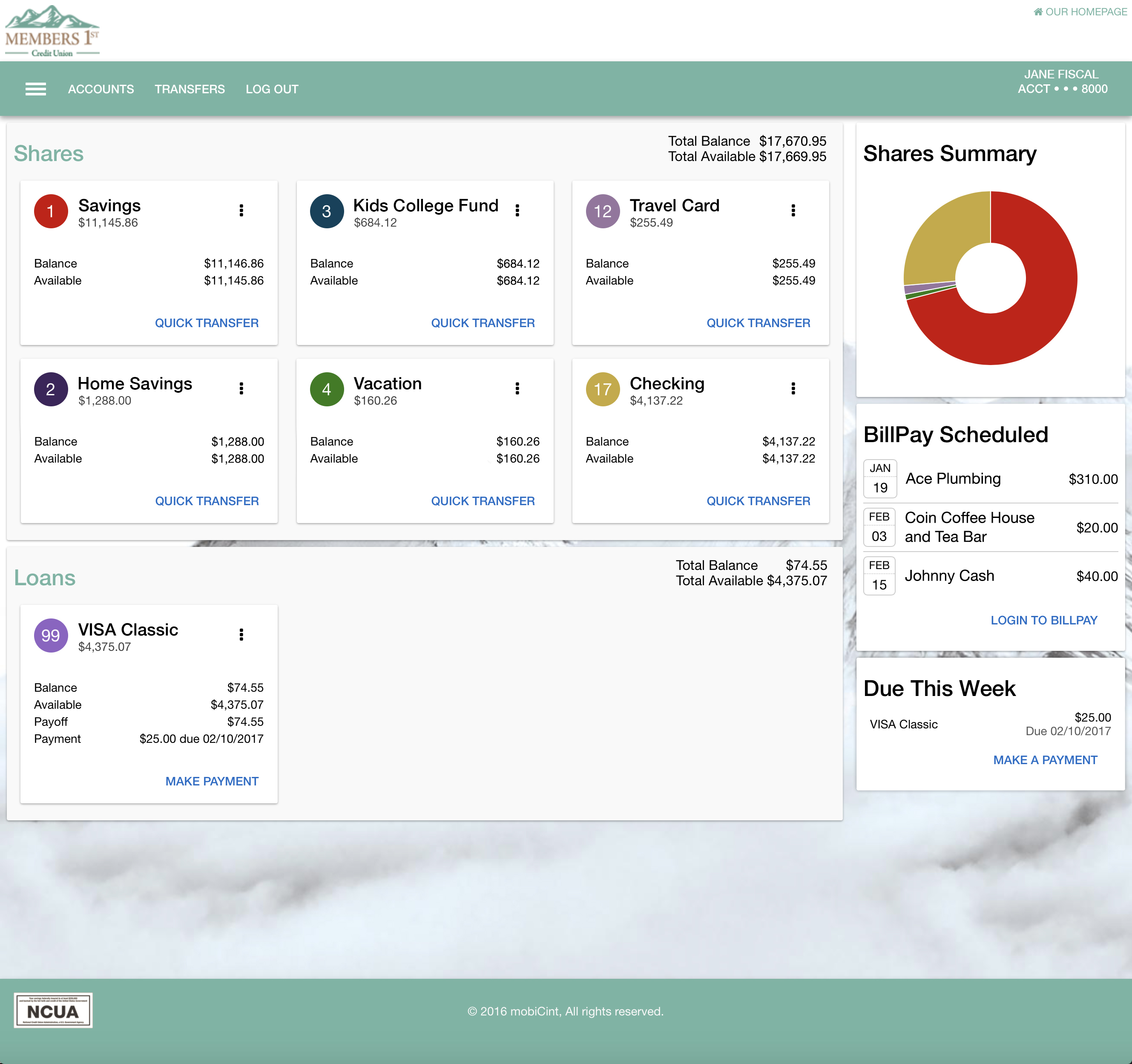 Suffix history pages show individual transaction history for each suffix. A Daily Balances line chart and Income and Expenses bar graph show a quick visual representation of your suffix activity for the month. All other suffixes are listed in the bottom left column for quick access without having to navigate back to the Account Summary page.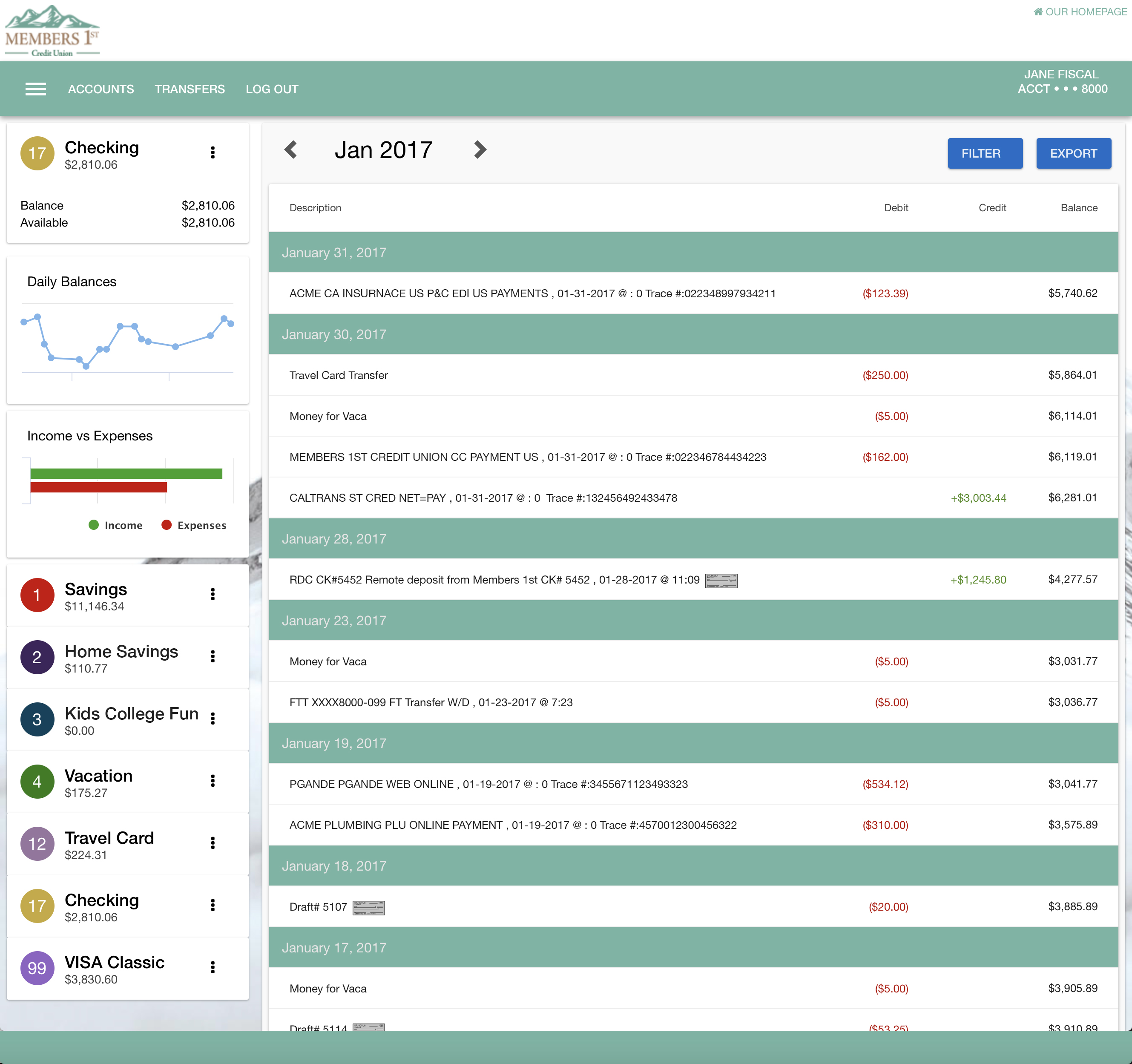 Your name and masked account number are located in the top right of the screen. Pressing this information will allow you to toggle between accounts if you have access to multiple Members 1st accounts.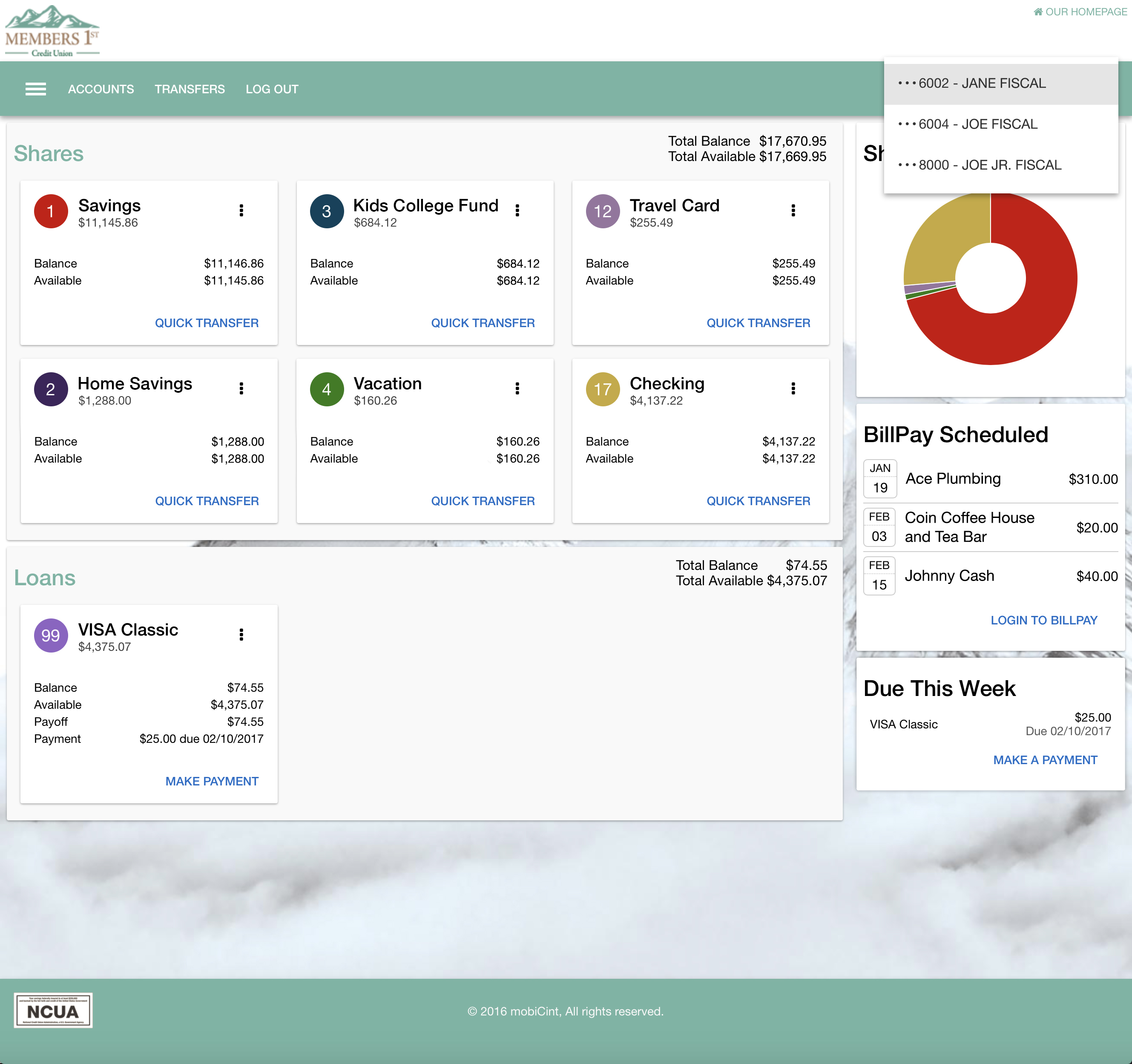 Three horizontal bars in the top left of the screen will reveal the side menu when pressed. The side menu is separated into three categories: Accounts, Services, and User Profile.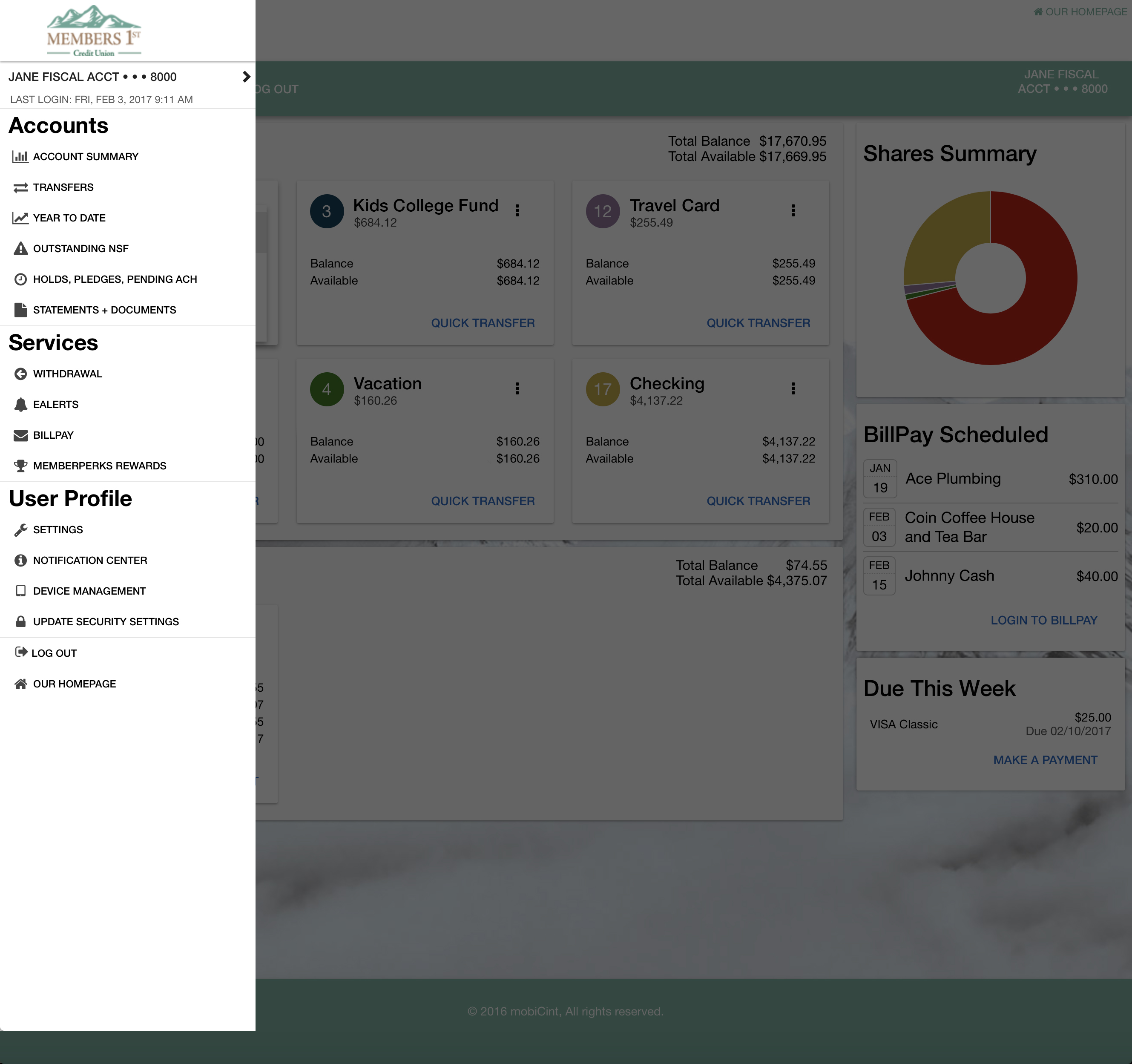 While the Accounts button in the main navigation displays the Account Summary page already covered, the Transfer button will take you to the new transfer page. Gone are the two separate pages for one-time transfers and recurring transfers. Both types of transfers are now available on the new transfer page. After transfer accounts have been selected, a transfer can be completed instantaneously or scheduled for a future date or recurring schedule. Once scheduled, the transfer will be listed in the Scheduled Transfers section at the bottom of the page and can be edited or removed when selected.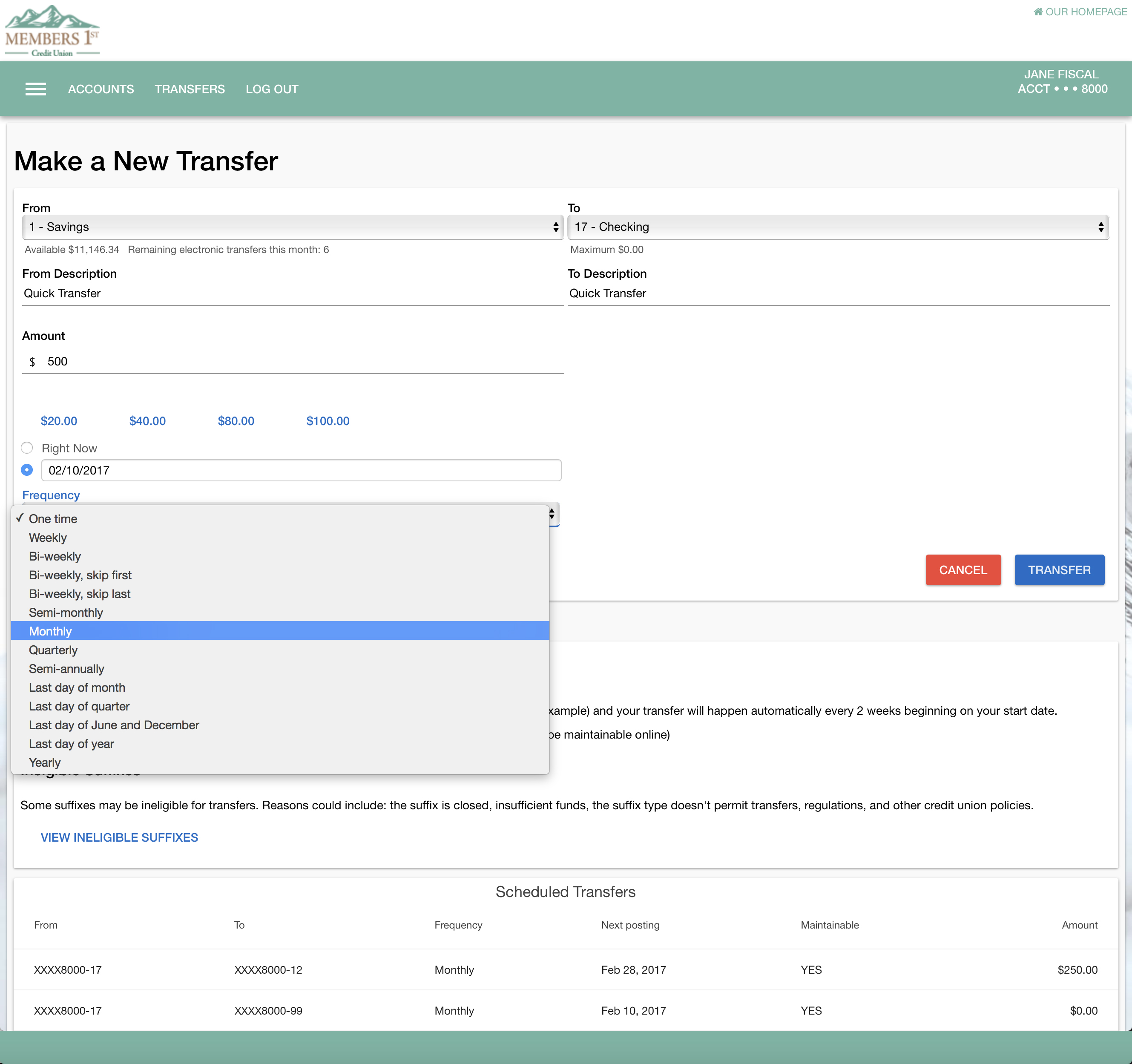 The Log Out button in the main navigation will securely log you out of Online Banking.
Lastly, the design of the new Online Banking looks the same in a mobile view and within the Mobile App, making it much easier to navigate regardless of what device you are using to access your account.
For additional questions or information on the new Online Banking, please call (530) 222-6060, (800) 303-3838, or Live Chat with us.